Apple products have risen to be some of the most popular over the past years, the slick designs and ease of compatibility with other Apple devices are a huge draw. Where they can fall down though is the ease of repair. Taking your Mac back to the Apple shop can be not just an inconvenience but a very expensive proposition and they don't lend themselves to being very user friendly to repair.
Thankfully we have significant experience with Macbooks and other Apple products and our experience is all to your benefit. Not only are we able to effectively diagnose issues with your Mac but we can offer fast repairs and at prices that the Apple store would never consider possible. We also repair the flexgate issue where the screen goes blank upon opening and closing due to the flex cable being stretched, Or if you have the horrible screen that looks stained we fix that too, staingate.
These are just some of the issues we can help with:

– Liquid Damage
– Logic Board Issues
– Damaged or not working graphics chips
– Display problems or broken screens
– Trackpads and mouse issues
– Flexgate and Staingate Repairs
– Backlight Problems
– Failed boots or Stuck updates
– Missing or Damaged keys / casings or other cosmetic issues
– Batteries and Charging problems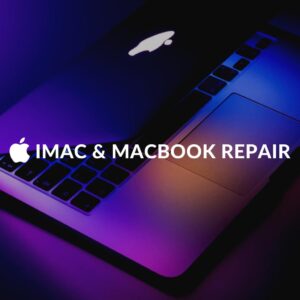 Don't be scared that a broken Mac means a broken bank balance. Even if it doesn't turn on, we are highly skilled to repair the issue, you can be confident in us to repair the logic board. Give your Mac the service it deserves and bring it to us, all our repairs come with warranty for that extra piece of mind.
Our friendly, fast and approachable staff are here to help you with your Mac worries. We will soon get your treasured Apple device working once again as smoothly as it always was. We can even offer upgrades if you would like to increase performance. Just get in touch and see what we can do to help you Today.